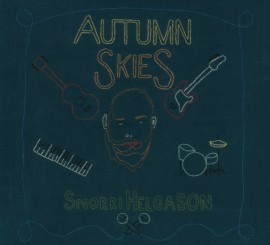 Our brand new album, Autumn Skies is ready. It will be released in Iceland on September 13th and we can't wait to let you guys hear. You can year the first single from the album, Summer Is Almost Gone over at the Line Of Best Fit where it is premiering this week. We shot a video for this song when I was in New York in June and that should be ready very very soon too. The Autumn Skies album release concert will be held at the beautiful Fríkirkjan church in Reykjavík on September 18th. Tickets will be on sale soon. It will be a wonderful night.
US shows and European tour
October will be very busy for the Snorri Helgason gang. Snorri will be doing two shows in the US, one in Denver on Sept. 28th and one in New York on Oct. 4th. Then he meets up with the lovely people who make up the Snorri Helgason band in Innsbruck in Austria where they kick off a 2 week tour of Germany, Austria & Switzerland. Then Snorri will head to London where he will perform two solo sets on Oct. 20th & 21st. Finally the Snorri Helgason band will be reunited back in Iceland where they play the Iceland Airwaves Music Festival. We hope to see you at some of these shows!
28.09. (USA) Denver, CO  – 3 Kings Tavern
05.10. (USA) New York, NY – Le Poisson Rouge
07.10. (A) Innsbruck – Weekender
09.10. (CH) Zürich – KafiFürDich
10.10. (DE) Freiburg – Swamp
11.10. (CH) Baden – Royal
12.10. (DE) Düsseldorf – Kassette
13.10. (DE) Münster – Pension Schmidt
14.10. (DE) Berlin – Roter Salon
17.10. (DE) Dresden – Scheune
18.10. (DE) Hamburg – Knust
19.10. (DE) Hannover – Feinkostlampe
20.10. (DE) Potsdam – Hans-Otto-Theater
21.10. (UK) London – The Northern Embassy @ Phoenix Artists Club, Soho
23.10. (UK) London – Karamel Music Club, Wood Green
25.10. (ES) Madrid – Dias Nordicos festival night
30.10. (IS) Iceland Airwaves Music Festival
31.10. (IS) Iceland Airwaves Music Festival
01.11. (IS) Iceland Airwaves Music Festival
---