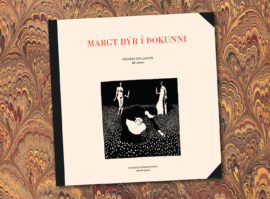 Yay! The day is upon us!
My new album of songs based on Icelandic folklore, Margt býr í þokunni is out today on Spotify, iTunes, Deezer and all those basic straming services.
The vinyl is being pressed somewhere in England now and should be in my hands in Iceland in a few weeks. You can pre-order the vinyl directly from me via my webstore and I will send it to you wherever you are in the world as soon as I get my hands on it. Today is also the last day of our crowd-funding campaign and you can still order the vinyl version there along with lots of other nice pledge options.
For now you can listen to it now 21st century style.
Enjoy!
Love,
Snorri
---