Hi everyone.
It's been a busy busy month. And it's just going to get busier….
I went to see Pavement at the Brixton Academy in London on monday. They we're fantastic in their own sloppy kind of way. Absolutely brilliant.
Malkmus is way too cool. Dangerously cool.
I've been listening a lot to this singer-songwriter guy called Emitt Rhodes. My friend Skarpi gave me a copy of his eponymous album from 1970 and
I've been listening to it constantly since. My friend Siggi described it as "like solo-era McCartney, only not boring". That's exactly what I heard when I put it on. Great stuff.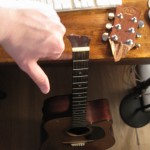 I bought myself a new acoustic guitar 'cause my old one committed suicide. He decided one morning to jump off his guitar stand and break his neck. I don't think my guitar was ever that much into folk. I think he always wanted me to go emo.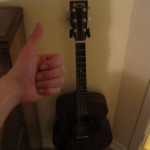 Oh well. I got myself a A Martin 000-15 instead. My dream guitar. I think it's the same type Graham Coxon used in the "Coffe & TV" video. I bought it used so I've been fixing it up a bit. Installed a new great pick-up (it's called Ellips Aura for all you guitar-geeks out there). It's sounding unbelievably sweet.
London, the play & Freeze-Out
Me and my band have been rehearsing like crazy and preparing for our trip to London. We're playing at the JaJaJa night at The Lexington on
May 20th. I can't wait to play live with the whole band again. We did a warm-up gig last friday here in Iceland and it went fantastic. The band is
sounding reeeeal smooooth.
I'm writing the music for a play that's premiering here in Iceland on May 30th. It's written by my friend Bergur (who was in Sprengjuhöllin
with me) and directed by another friend of mine, Dóri. I've never done anything like this before so I'm very psyched about this. It's going to be
great. I think I will be performing the music live every night. That makes it even more exciting.
Me and Biggi, the keyboard player in my band have been shooting a video for "Freeze-out". It will hopefully be ready before we head out to London
next thursday. I'll keep you posted on that.
"Ólán"
I recorded a new song in Icelandic called "Ólán" in Hljóðriti Studios in Iceland a couple of weeks back. Me and Siggi went in and recorded it live in
one take one friday afternoon in late April. It took less than two hours! But there was just something about that first take that just clicked so there was no point in going on. I just finished mixing it last night. It's a pretty basic folk-blues song in it's essence but the vocal style and general
soundscape of the song is something completely new for me. I'm very happy about it but I would love to hear what you think. You can stream it on my website.
And yeah… the best way to keep track on what I'm doing so you won't have to read through these loooong emails is of course following me on
Twitter and Facebook 🙂
Until next time
Love,
Snorri.
---