Hi.
It's been a while and I've got two things I want to tell you about. A new album and a European tour I'm going on throughout March supporting one of my favorite bands, the lovely Hjaltalín.
New album
I started the new year off playing a couple of shows in New York. I had a great time and sort of fell in love with Brooklyn. I want to live in Carroll Gardens or Fortis Green or somewhere around there one day.
After NY I went to Reykjavík to start working on a new album with my friend Sindri Már Sigfússon, the great songwriter and producer behind the bands Seabear and Sin Fang. I went in with about 6 songs "ready" and a few song sketches and I wasn't sure if we were just going to do an EP or a full album but after meeting him for about ten 3-4 hour sessions we suddenly had 11 songs ready for vocals and overdubs. It was fun. I've never worked in such an organized but smooth environment. I liked it. I then went back to London and recorded all the vocals in a makeshift studio in my bedroom. Sindri is now going to do some more overdubs in his studio and then I'll go back to Reykjavík after the tour to be there for the final mixing of the album. I'm really excited about the new songs and am looking forward to hearing how the completed album will sound. It should be ready this summer.
The tour
I'll be supporting the band Hjaltalín on a big European tour that starts here in the UK on Friday, March 4th. Wow. That's close. I'm really looking forward to it. I'm going to lots of places I've never seen before and I can't wait to start playing the new material and getting feedback from the audience. I'll be playing with a band made up of members of Hjaltalín and they are such wonderful musicians so I can't wait to hear what they do with my songs.
I'm going to be selling a t-shirt that my girlfriend designed on the tour (and pretty soon on my homepage too). She just finished it last night and I really like it. Check it out: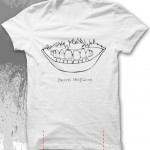 Anyway! Here are the dates for the tour:
4-Mar Bristol – Start The Bus
5-Mar Cardiff – Buffalo Bar
8-Mar London – Slaughtered Lamb
10-Mar Amsterdam – Paradiso
11-Mar Brussels – Botanique @ Witloof Bar
12-Mar Haldern – Haldern Pop Bar
13-Mar Liege – L`Escalier
15-Mar Rennes – UBU
17-Mar Nancy – Le Hublot
18-Mar Lyon – l'Epicerie Moderne
19-Mar Paris – La Fleche d'Or
20-Mar Lille – l'Aeronef
22-Mar Barcelona – Sala Apolo
23-Mar Zaragoza – La Lata De Bombillas
25-Mar Cavriago – Calamita
26-Mar Verona – Emporio Malkovich
27-Mar Milano – Secret House Show (acoustic show)
28-Mar Faenza – Clandenstino
29-Mar Luzern – Treibhaus
30-Mar Basel – 1. Stock
31-Mar Graz – Forum Stadtpark
1-Apr Vienna – B72
2-Apr Aflenz – Sublime
3-Apr Prague – Palac Akropolis
Hope to see you soon!
Snorri
---